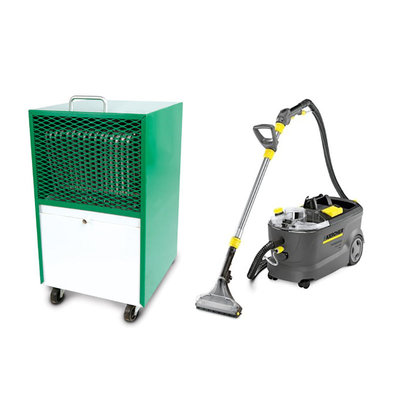 Save
53%
Product Description
Carpet Cleaner & Dehumidifier Hire Pack
Carpet cleaning & drying hire packages
We have carpet cleaner and dehumidifier hire packs available nationwide. Our package deals are ideal for cleaning your home, office, accommodation and more. They are suitable for cleaning the carpets in rooms of any size! Each hire kit includes a Karcher carpet cleaning machine and a 110v 12 litre dehumidifier. The Karcher carpet cleaner uses a combination of warm water, carpet shampoo and a powerful vacuum to clean deep carpet pile. It lifts the deep seated dirt, dust, stains, allergens and bacteria that cling to small fibres and are often difficult to remove. The washing rejuvenates your carpets, leaving them cleaner, fresher and more hygienic.
Our 110v dehumidifiers allow for fast and efficient drying. They are ideal for reducing downtime, so you can use a carpet and upholstery washer in any room, even if they are due to be occupied. Our carpet cleaner hire packs are perfect for domestic customers cleaning their home, and they are suitable for professional cleaners too. You can book a carpet cleaner and dehumidifier together online or over the phone with our hire team. We have branches nationwide offering click and collect, or you can have your equipment delivered to site when you need it.
Specifications
Karcher Puzzi 100 Carpet Cleaner
Max Area Performance: 20 - 25 square meters per hour (m2/h)
Air Flow Rate: 54 litres per second ( l/s)
Vacuum: 220 - 22 millibar to kilopascal (mbar/kPa)
Spray Rate: 1 litre per minute ( l/min)
Spray Pressure: 1 bar (b)
Tank Capacity (Fresh Water): 10 litres (l)
Tank Capacity (Dirty Water): 9 litres (l)
Turbine Power Rating: 1250 watts (W)
Pump Power Rating: 40 watts (W)
Dimensions (L x W x H): 665 x 320 x 435 mm
Weight: 10.3 kilograms (kg)

Dehumidifier
Dimensions (H x W x D) 508mm x 305mm x 305mm
Weight: 25kg
Airflow: 170m³/hr
Noise Level: 47dba
Effective Volume: 100m³
Typical Extraction: 12l/d
Minimum Operating Temperature: 3°C
Maximum Operating Temperature: 35°C
Voltage: 110v (240v may be available on request - please call our hire team to enquire)

Delivery / Click & Collect
Collect from Store | Delivered to Door
We have many collection points across the UK so you can be sure of a friendly and local service in your area. Click & Collect or get it delivered to your home or worksite from just £7.50 each-way!
Please Note: Always book and pay online or over the telephone before visiting your local collection point to ensure that the equipment is in-stock and ready for collection. Discounted web prices only apply to bookings made via the website or over the telephone.
Call: 0800 808 9127 | Click & Collect