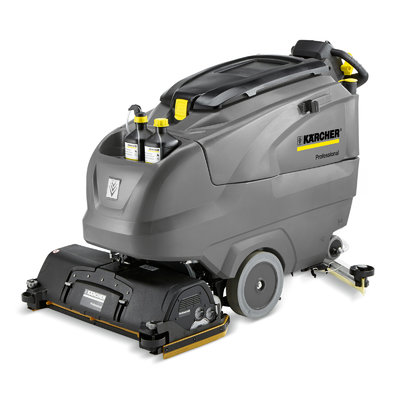 Product Description
Karcher B120 scrubber dryers are the largest walk-behind scrubber dryer machines in Karcher's range. These large pedestrian scrubber dryer units are perfect for a range of commercial and industrial floor cleaning jobs in warehouses, factories, supermarkets, offices, shops, supermarkets and more.
These commercial floor scrubber dryers have been designed to be the easiest to operate large pedestrian scrubber dryers on the market. So, despite their heavy duty cleaning capabilities, these scrubber dryers are actually very easy to handle and to operate. Forward and reverse traction drive, combined with the unit's tight turning circle, give the operator excellent control of the scrubber dryer - so you can clean large floor areas with ease. The cleaning functions are all controlled by a single intuitive dial, and Karcher's unique KIK key system gives supervisors the ability to manage the scrubber dryer's functions, and ensures that only approved personnel are able to start up and move the scrubber dryer unit.
We have Karcher B120 pedestrian scrubber dryers for hire nationwide. Contact us via telephone or online live chat for more information, for a hire quote, or to arrange a hire.
Technical Data:
Working width, vacuum (mm): 1160
Fresh / waste water tank (l): 120 / 120
Max. area performance (m²/h): 5400
Practical area performance (m²/h): 3240
Brush rotation speed (rpm): 600 / 1300
Brush contact pressure (g/cm²): 140 / 425
Frequency (Hz): 50 / 60
Voltage (V): 100 / 240
Motor rating (W): 2200
Voltage, charger (V/Hz): 100 / 240 / 50 / 60
Battery (V/Ah): 36 / 240
Dimensions (L x W x H) (mm): 1653 x 910 x 1153
Sound level (dB(A)): 69
Delivery / Click & Collect
Collect from Store | Delivered to Door
We have many collection points across the UK so you can be sure of a friendly and local service in your area. Click & Collect or get it delivered to your home or worksite from just £7.50 each-way!
Please Note: Always book and pay online or over the telephone before visiting your local collection point to ensure that the equipment is in-stock and ready for collection. Discounted web prices only apply to bookings made via the website or over the telephone.
Call: 0800 808 9127 | Click & Collect