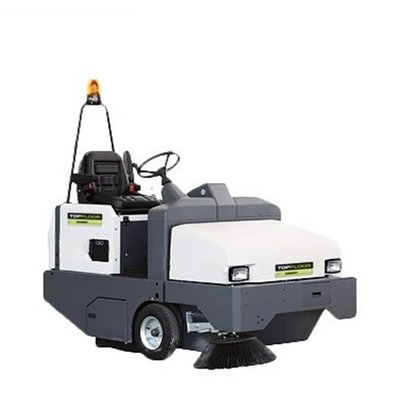 Product Description
Topfloor TF200R-GTX ride-on floor sweepers are designed for sweeping floors in industrial areas with especially high dust levels. These innovative industrial floor sweepers are the only floor sweepers in their category to boast deep-pocket Gore filtration technology. This technology provides the floor sweepers with the ability to perform to the highest standards in high dust environments, such as industrial sites, warehouses, factories and more. The Gore filtration technology enables these sweepers to filter 99% of PM10 particles, sweep wet debris effectively, and produce 35% higher airflow than sweepers with a standard filtration system.
Topfloor TF200R-GTX ride-on sweepers operate using a direct load sweeping system, which provides extremely efficient and powerful sweeping. The robust main broom and vacuum are supplemented by side brushes, to give these floor sweepers a large sweeping width of 1700mm. These sweepers are also fitted with a huge 400 litre waste collection hopper.
Both battery and diesel powered versions of the Topfloor TF200R-GTX ride-on floor sweeper are available. So whether you need an indoor industrial sweeper or an outdoor industrial sweeper, we can provide you with a suitable unit. The Topfloor TF200R-GTX can be driven over large areas, at speeds up to 10.5 km/hr, to make light work of sweeping sites clear of waste - from the smallest dust particles, right up to gravel and litter.
We have Topfloor TF200R-GTX ride-on floor sweepers for hire nationwide. Contact us via telephone or online live chat for more information, to get a hire quote, or to arrange a hire.
Specifications:
Power Supply: Battery / Diesel
Working width with main broom (mm): 1000
Working width with right side brush (mm): 1350
Working width with 2 side brushes (mm): 1700
Max Speed (km/h): 10.5
Hopper volume (Litres): 400
Max dumping height (cm): 1350
Main filter area (m2): 7.5
Dimensions – L x W x H (mm): 2820 x 1420 x 1530
Weight (kg): 1400
Delivery / Click & Collect
Collect from Store | Delivered to Door
We have many collection points across the UK so you can be sure of a friendly and local service in your area. Click & Collect or get it delivered to your home or worksite from just £7.50 each-way!
Please Note: Always book and pay online or over the telephone before visiting your local collection point to ensure that the equipment is in-stock and ready for collection. Discounted web prices only apply to bookings made via the website or over the telephone.
Call: 0800 808 9127 | Click & Collect