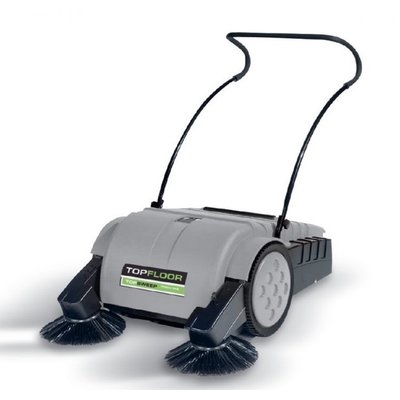 Product Description
Topfloor TF90VB-TRS floor sweepers are compact, convenient and highly effective battery-powered pedestrian floor cleaning machines, ideal for both indoor and outdoor use.
These floor sweepers feature two counter-rotating roller brushes, two side sweeping brushes, a high-powered vacuum, a 50 litre waste collection hopper and an effective 1.3m2 polyester filter which reduces or eliminates airborne dust. As you walk the floor sweeper along, the two side brushes convey dust, dirt, debris and litter to the two roller brushes. The roller brushes and vacuum then work to lift and deposit the refuse into the rear mounted waste hopper. The roller brushes and the side sweeping brushes combine to give these floor sweepers a total sweeping width of 900mm.
The battery powered design of Topfloor TF90VB-TRS floor sweepers allows you to sweep large areas of floor without being restricted by a power cable. The two hour running time per charge gives you plenty of time to complete sweeping jobs of all sizes.
The versatility of Topfloor TF90VB-TRS floor sweepers means that you can use them both outdoors and indoors. They are capable of sweeping paths, car parks and patio areas, as well as wooden floors, concrete floors, tiled floors, and even carpeted floors. The main roller brushes and the side brushes can be raised and lowered quickly and easily, for the best sweeping results on every surface.
We have Topfloor TF90VB-TRS pedestrian floor sweepers for hire nationwide. Contact us via telephone or online live chat for more information, to get a hire quote, or to book a hire.
Specifications:
Sweeping System: TRS (Tandem Roller System)
Power Supply: Battery (12v) / Manual
Runtime: Up to 2 Hours
Motorised Sweeping Roller Drive: Yes
Theoretical Productivity (m2/hr): 3,150
Actual Productivity (m2/hr): 1,890
Main Broom Width (mm): 500
Total Sweep Width (mm): 900
Hopper Capacity (ltr): 50
Filter Area (m2): 1.3
Dust Extraction: Yes
Airflow Volume (m3/hr): 200
Net Cleaning Surface Area (m2): 2000
Power Transmission: Chain
Dimensions – L x W x H (mm): 1,091 x 760 x 416
Weight – incl Battery (kg): 46
Delivery / Click & Collect
Collect from Store | Delivered to Door
We have many collection points across the UK so you can be sure of a friendly and local service in your area. Click & Collect or get it delivered to your home or worksite from just £7.50 each-way!
Please Note: Always book and pay online or over the telephone before visiting your local collection point to ensure that the equipment is in-stock and ready for collection. Discounted web prices only apply to bookings made via the website or over the telephone.
Call: 0800 808 9127 | Click & Collect