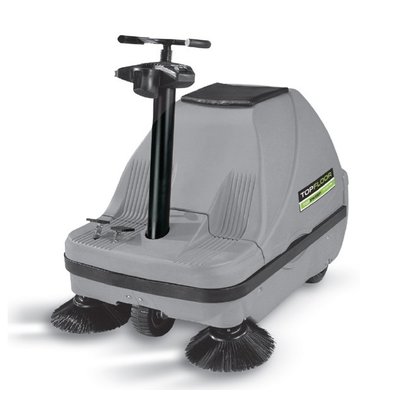 Product Description
Topfloor TF100R-TRS ride-on floor sweepers provide a convenient, practical and effective commercial and industrial floor cleaning solution. These battery-powered ride-on floor sweepers harness the Tandem Roller System (TRS) to lift and remove dust, dirt, debris and litter quickly and easily. The two main counter-rotating roller brushes and high powered vacuum are complemented by two side sweeping brushes, which increase the reach of the machine by directing waste into the path of the main roller brushes. These brushes combine to give Topfloor TF100R-TRS ride-on floor sweepers a total sweeping width of 1000mm.
Topfloor TF100R-TRS ride-on floor sweepers are driven using simple foot pedals, whilst the sweeping functions are controlled with easy to use levers. As these floor sweepers are battery powered units, you are able to sweep large areas of floor without the restriction of a power cable.
These floor sweepers are capable of travelling at up to 6km per hour; they have a compact profile, and a 1m turning circle. TF100R-TRS floor sweepers combine high performance with practicality and convenience perfectly, to give you an easy to use and manoeuvrable yet highly effective floor sweeping machine.
The robust design of these floor sweepers, along with their flashing beacon, back up alarm, horn and non-marking tyres, make them perfectly suited to industrial floor sweeping applications.
Topfloor TF100R-TRS ride-on floor sweepers are also available with an on-board vacuum cleaner, a carpet sweeping kit and alternative broom bristles for sweeping up different types of debris.
We have Topfloor TF100R-TRS ride-on floor sweepers for hire nationwide. Simply contact us via telephone or online live chat for more information, for a hire quote, or to book a hire.
Specifications:
Power Supply: Battery
Theoretical Productivity (m2/hr): 6,000
Main Broom Width (mm): 600
Total Sweep Width (mm): 1,000
Hopper Capacity (Litres): 70
Filter Area (m2): 3
Airflow Volume (m3/hr): 600
Max Speed (km/h): 6
Turning Circle (m): 1
Dimensions – L x W x H (mm): 1,190 x 790 x 1,089
Weight – incl. Battery (kg): 160
Delivery / Click & Collect
Collect from Store | Delivered to Door
We have many collection points across the UK so you can be sure of a friendly and local service in your area. Click & Collect or get it delivered to your home or worksite from just £7.50 each-way!
Please Note: Always book and pay online or over the telephone before visiting your local collection point to ensure that the equipment is in-stock and ready for collection. Discounted web prices only apply to bookings made via the website or over the telephone.
Call: 0800 808 9127 | Click & Collect
Sorry, the booking form is currently unavailable. Please contact us directly to complete this order.