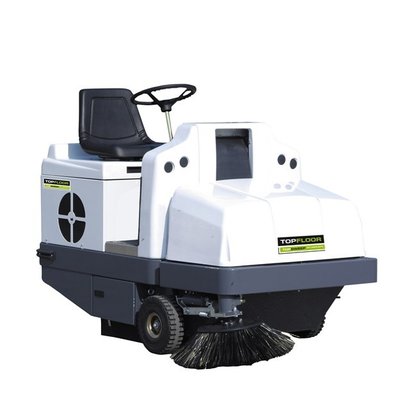 Product Description
Topfloor TF140R-GTX ride-on floor sweepers are battery powered industrial sweeping machines, perfectly designed for performing in tough, dusty industrial environments.
These innovative floor sweepers are the only ones in their class with a deep-pocket Gore filtration system, for the best performance in high dust industrial environments. This Gore filtration technology gives these floor sweepers the ability to filter 99% of PM10 particles. It also gives them the ability to sweep wet debris without damaging the filter or causing any drop off in performance. This filtration system also results in 35% higher airflow compared to sweepers with a standard filtration system. Ultimately, this means more power and better dust control than floor sweepers of a comparable size and specification.
Topfloor TF140R-GTX ride-on floor sweepers are capable of sweeping up all kinds of heavy duty waste - from the finest of particles up to gravel-sized debris – thanks to their powerful direct load sweeping system. Their tough main broom, side brushes and vacuum lift dirt, dust, debris and litter from the floor surface and deposit it into the on-board 220 litre waste collection hopper.
Perfect for sweeping public spaces, warehouses, factories, loading bays, car parks and other industrial areas, we have Topfloor TF140R-GTX ride-on floor sweepers for hire nationwide. Simply contact us via telephone or online live chat for more information, to get a hire quote, or to arrange a hire.
Specifications:
Power Supply: Battery
Theoretical Productivity (m2/hr): 10,100
Working width with main broom (mm): 750
Working width with right side brush (mm): 1140
Working width with 2 side brushes (mm): 1440
Max Speed (km/h): 7
Hopper volume (Litres): 220
Max dumping height (cm): 1330
Main filter area (m2): 6
Dimensions – L x W x H (mm): 2220 x 1180 x 1320
Weight (kg): 700
Delivery / Click & Collect
Collect from Store | Delivered to Door
We have many collection points across the UK so you can be sure of a friendly and local service in your area. Click & Collect or get it delivered to your home or worksite from just £7.50 each-way!
Please Note: Always book and pay online or over the telephone before visiting your local collection point to ensure that the equipment is in-stock and ready for collection. Discounted web prices only apply to bookings made via the website or over the telephone.
Call: 0800 808 9127 | Click & Collect